Are You a Remodeling Contractor? Home Improvement Contractor? Landscape Contractor? Siding Contractor? Window Contractor? Roofing Contractor Or Other Residential Contractor Desperate for Leads?
New!
Announcing Lead Machine "Lite" . . .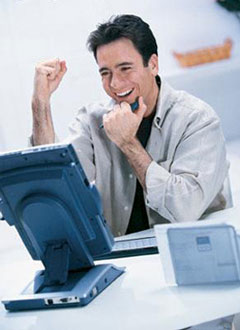 If You've Got Budget Worries, Cash Flow Pain or Overhead Nightmares, Maybe a "Slimmer" Version of a Lead Machine is Right for You!

From the Desk of Craig Mecham
Date:
Dear Friend,
Leads. That's the reason you're here. You need good, solid leads that you don't have to share with the rest of the world–and you need them fast.
The Lead Machine full version is an amazing tool–you've just finished reading about it on the previous page (Lead Machine Full Version). It will produce great results for you. But what if you just can't quite handle the payments or the price?
We have something that might be perfect for your cash-strapped business.
---
Compare the new
Lead Machine "Lite"
vs
Lead Machine Full
and see if this scaled down solution will fit the bill for you. We've eliminated some of the more expensive and time-intensive benefits of the full version and come up with a "Lite" alternative that will still deliver some significant results for you.
Take a Look at "Lead Machine Lite" and Compare:
Lead Machine Full

Initial Telephone Interview

including an overview discussion of your site along with recommendations. (approx 1-1.5 hours)

Comprehensive Site Analysis

(Written Report–approx 30-40 pages of detailed comments and reccomendations)

Comprehensive Keyword Study

Competitive Analysis

(legally "spy" on three competitors)

Incentive Document Development

(multi-page downloadable lead incentive)

Lead Form Development

PPC Campaign Structuring


• PPC Account Creation
• PPC Campaign Development
• Geographic Targeting
• PPC Ad Writing

PPC Campaign Monitoring




• Including bid adjustments, ad re-writing, keyword adjustments daily as needed.

Article Marketing




• Generate and submit three articles to 6,000 article directories, blogs and web sites

Weekly Reporting–PPC Reports


• A CSV file (for MS Excel) will arrive in your inbox each week.

√

√

Weekly Reporting–Article Marketing


• An email report showing the number of backlinks generated by your Article Marketing Campaign

Weekly Reporting–Keyword Position Report


• Proprietary report showing your organic search engine placement for your primary keywords
(Click here for more details on the Lead Machine Full version)
Either Way, You Can Harness the Power
of the Internet for Your Lead Generation!
OK Craig, I understand that "Lead Machine Lite" includes fewer benefits, but let's get down to the nitty-gritty. What's the cost of the "Lite" version?
Good question.

First, no matter what version of Lead Machine you select, you'll NOT be wasting your money on lead generation strategies which are NOT working. The savings on your direct mail postage costs alone will more than pay for your lead generating machine.

Remember what it will cost to generate these leads in the "old fashioned" way:

• At least $7,000 just for the postage on your postcard mailing campaigns!

• More than $10,000 to run enough radio spots

• As much as $15,000 to buy the leads from a lead generation company–and even then, you have to share them with your competitors!

Or . . .

You can have your own Lead Machine for a fraction of the costs of the "old fashioned" methods.

Remember . . . No Matter Which Way You Go:

| | |
| --- | --- |
| | It produces leads ONLY for you! |
| | Your leads will be fresh–you'll get them within seconds! |
| | YOU are in control of the qualification process, so you know exactly what your prospects are looking for. That means you'll close more business! |
| | YOU are in complete control of the volume of traffic into your Lead Machine. Turn it up when you want more. Turn it down when you're flooded with business! |

Your Lead Machine Lite Monthly Payment Plan:

| | | |
| --- | --- | --- |
| | | Total Cost |
| | $950 | $2,850 |
| | | $3,000 |

* Note: A substantial amount of the work is done up front in all of the Lead Machine Lite plans, therefore you will be under contractual obligation to complete your payments according to the above schedules following your standard 30-day satisfaction guarantee. Lead Machine Lite does not include website development and is only for customers with a currently functioning website.

Select your payment arrangement, and let's get started building your Lead Machine today!

We have four options from which to select the program that best meets your needs. Here's how it works:
Here's What You Get with Lead Machine "Lite"

• Comprehensive telephone consultation, including specific site recommendations for improved lead generation

• Comprehensive keyword research

• PPC Account Creation

• PPC Campaign Development with Proprietary Structuring System

• PPC Geographic Targeting

• PPC Ad Writing

• Weekly Campaign Results Reports for 30 days

Choose The Lead Machine Lite Payment Program That's Right for You and Click on the Payment Link Today!

6 Mo. Payment Plan:

$500 per month for 6 months.

Pay securely with your credit card
Or, take advantage of our convenient, Pay Now discount program.
Get Lead Machine "Lite", but save from $250 to $550!
The Exclusive, No-Risk, No-Hassle, Unconditional, Money-Back Guarantee!

Try your own Lead Machine for 30 days. If you're not completely satisfied, we'll give you your money back. No questions. No hassles. No problem!
Note: We Will NOT Work With Your Competition!

Our methods are highly effective and proprietary. In order to maximize your competitive advantage, keep your strategies confidential and not dilute the effectiveness of your Lead Machine, we will NOT work with your competitors.

Will you be the first in your market? If you're reading this, rest assured that your competitors are too! It's time to take action now!

So, click the payment link that makes the most sense for your business and we'll get started building your Lead Machine today!

There is absolutely no risk to you. Try it for a full 30 days. If you're not happy, you can cancel and get a full refund. How can we do that? Easy. We are convinced you'll be more than pleased with your results. Others have, and so will you!

So, select the payment button above that makes the most sense for you and let us go to work for you today building your own private Lead Machine!

As soon as your payment is processed, here's what will happen:

1. You'll be sent to a "Thank You" page (yes, we seriously appreciate your business) where there is a form for you to fill out with your contact information. Sorry about the form, but I do need to know how to contact you! So, please fill out the form and submit it.

2. You'll get a phone call from me or one of my staff and an email from me. If it's in the wee hours of the morning, you'll just get the email immediately, but the phone call will follow during normal business hours, usually within TWO business days.

3. We'll talk at length about your business, your customers, your competition, your web site, your products, etc. , etc. We'll get to know your business and we'll get to know you. This is NOT some automated, robotic process. This is real thinking and real work by real people.

4. We'll begin working for you IMMEDIATELY. Your lead machine will begin to take shape. Remember, this is a process, not an event, so there will be some patience required!

It's pretty simple really. We do the work. You get the leads. You make the sales. You smile–a lot!

So go ahead and click one of the above payment links and start visualizing your very own Lead Machine!

Talk to you soon!

Regards,

President, The Mecham Company

P.S. Remember, we can only take a limited number of clients each month! So hurry, don't delay. Let us get started generating new leads and new business for you today!

P.P.S. Questions? Don't hesitate to call. (509) 922-0535.  We're real people. We actually answer our phone!