Are You a Remodeling Contractor? Home Improvement Contractor? Landscape Contractor? Siding Contractor? Window Contractor? Roofing Contractor, Residential Contractor or ANY Business That Needs Leads?
Wouldn't You LOVE to Say This . . .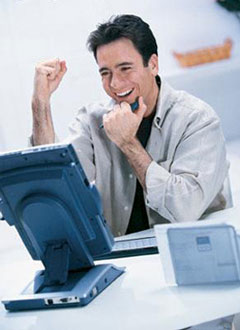 "Every morning I turn on my computer and it spits out leads–automatically! I never touch it, worry about it or even think about it. It's a Lead Machine on auto pilot–and it's all mine!"

From the Desk of Craig Mecham Date:
Dear Friend,
Leads are life! You can be the best contractor in the business, but unless you have someone to sell to, you're in deep trouble.
But, you didn't get into this business because you liked to generate leads!
You're successful because you pay attention to the details, focus on your customer and do good work. Yes, finding someone to sell to is a pain in the @#$!
And, to make matters worse, the old methods are just not working anymore. You know exactly what I'm talking about. You've tried them all:
| | | |
| --- | --- | --- |
| Method | Used to Work? | Works Now? |
| Home Shows | Yes | Nope |
| | Like a dream | Make that a nightmare! |
| Newspaper Ads | Difficult, but do-able | Don't even try |
| Radio | Flooded with calls | A call poured in |
| Telemarketing | Wow! | Do Not Call List-duh! |
So what DOES work now? How can I generate the leads I need to keep my business working? Here are a few ideas:
1. You can buy your leads, but beware . . .
Leads can cost anywhere from $45 to $75 each. That's a ton of cash from your small business over the course of a year. You could easily spend $15,000 a year on leads. Ouch!
You'll share those leads with at least three of your competitors–maybe more! I talked with a contractor who paid $75 for a lead and when he got to the appointment, he had to wait outside the house for his competitor to finish his sales pitch. He was angry and so was his competitor, especially because the lead company told them both they were the "only ones". And no, he didn't get the job.
Often the so-called "leads" have no idea why you're calling them. This is one of the most frustrating things about purchasing leads. A contractor in the Midwest told me he called on a lead which cost him $75 only to be told that they weren't interested in talking to a contractor about anything and didn't know how he had received their contact information. They were mad at him for the disturbance. Wow! He paid $75 bucks to make someone mad at him.
The leads are sometimes weeks old. Here's another story I hear. Contractor pays for lead. Contractor immediately contacts prospect. Prospect answers the phone. Contractor hears the sounds of construction in the background. The project has been awarded to a competitor who has already been on the job for a week!
You've probably had each one of these experiences at least once with leads you have purchased. Right?
2. You can pay someone to generate leads for you . . .
This is also expensive. You can pay someone as much as $15,000 to let you in to their "system". They'll generate leads for you using their own template approach. And then you'll still pay for every lead they give you.
You just keep paying and paying. It's like the Energizer Bunny gone bad. You are locked in. You watch the cash draining from your bank account and have nothing to show for it.
They don't know your business. You're looking for qualified leads, right? Probably not what you're going to get with this approach. You have little or no control over the process. They have the formulas and the software and the key to your bank account!
Or, you could . . .
Create Your Own Lead Machine and Liberate Yourself from the Lead Generating Nightmare!
| | |
| --- | --- |
| | No more scrambling for new business leads! The leads come to you! |
| | Stop fighting with every competitor in town over the same prospects! |
| | Get off the treadmill of paying over and over for substandard leads! |
| | Stop paying for advertising that continues to produce zero results! |
Harness the power of the Internet for Your Lead Generation!
Billions of dollars are spent doing lead generation through the Internet. Huge companies have entire divisions dedicated to harvesting internet traffic and turning it into cash!
Consider this:

• In 2007 the Home Improvement industry alone spent more than $2 Billion (yes, that's with a "B") in lead generation activity

• Prior to the "Do Not Call" list, 89% of all leads were generated over the phone

• Now less than half of all leads are generated by telephone calling

• 97% of U.S. businesses see online lead generation as a growing priority

• 53% of lead generation activity is now taking place online and that number is increasing

• 59% of businesses say they do a lousy job of lead generation (are you one of those?)

• 62% of businesses report their online lead generation activity as their most cost effective method of obtaining leads

(Source: e-Consultancy: "Online Lead Generation B2C 2008″)
How do they do it?
They have invested millions of dollars in developing sophisticated software and even more millions in testing various online lead generation techniques. They hire the best and the brightest minds to continually improve their systems. They get results because they're huge and massive and they can cast a big net. They need hundreds of thousands of leads each year in order to keep their massive, ponderous operations moving.
Here's the good news for you:
You don't need hundreds of thousands or millions of leads
You don't have to have millions of $$
You don't have to have a huge staff
You don't have to have a supercomputer
You don't have to have a warehouse full of software
New developments in technology mean that you can apply the same strategies, principles and technologies the big boys use for a teeny tiny, itty bitty, fraction of what they spend.
It's never been easier for a small business like yours to harness the power of the Internet to generate leads for you! Use your web site for what it was intended–
Bringing Hungry Buyers to Your Business!
Finally there's a way for small businesses just like yours to be in that game–and even dominate!
Let the experts create and fine tune your lead machine, then hand you the keys! You're in charge of your own destiny. You're in control of your leads!
Here's how your Lead Machine works:

Step 1. Comprehensive Web Site and Online Analysis- We'll carefully review your web site to make sure you're ready for "prime time". It's very likely that we'll have some recommendations for your site in order to fine tune it. You can implement those changes or contract with us to do it. We have created hundreds of successful web sites and have done "tune ups" on hundreds more. All of our work in this first step is designed specifically to help your site be more competitive and rank better in the online searches your customers will perform when they're looking for your services.
• Search and Keyword Analysis to Target Your Market –We'll pinpoint the search terms that prospects use to find businesses just like yours. We'll use that information to fine tune your Lead Machine specifically for your product or service and take advantage of the search engine traffic that's already looking for you!
• Competitor Monitoring and Analysis–Ever wonder what your competitors are doing? We'll analyze their online presence and tell you things about them that they probably don't even know! (shhh! of course it's legal–it shouldn't be, but it is!) Then we'll use this information to make sure your Lead Machine, crushes them like a Monster Truck on a Yugo!

Step 2. Lead Capture–
We'll create and install the lead capture forms on your site. These have been proven to capture visitor information and turn them into qualified leads. Lead production varies widely depending upon a variety of factors, but even our lowest performing client has produced an average of 2.4 leads per day over the past year. Not exactly a barn burner I know, but that client has managed to turn those 2.4 leads per day into a $5 million business! Not bad.

Step 3. Traffic Generation–
• A Pay Per Click (PPC) campaign* will begin to drive traffic to your web site immediately. A PPC campaign is one in which your ad appears on a Google search page (for example) and when a prospect clicks on your ad, you are chaged for that click. Click costs can be as little as a few pennies. Your ad will appear in the "Sponsored Links" sections as shown in the this screenshot: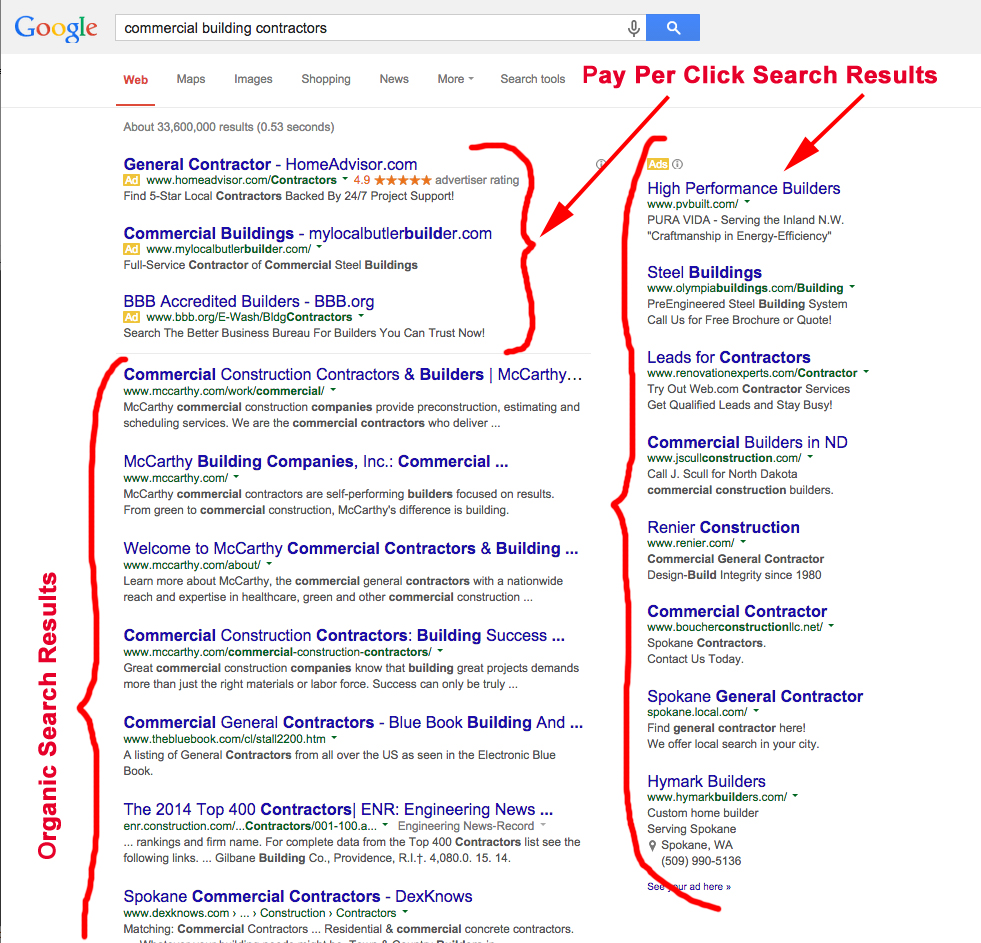 * PPC campaign costs and autoresponder service costs NOT included in program fees.
We have invested heavily in specialized software and expertise to set up and manage your PPC campaign so you'll get the maximum results at the lowest PPC cost. Your ads will bring an avalanche of targeted traffic to your site. And they'll be ready to do business with you!
• Search Engine Marketing–Another, more long-term approach to traffic generation will be accomplished through our Search Engine Marketing Program. This strategy is also part of your Lead Machine. Keyword rich articles focused on your SIX primary key phrases will be created and submitted to more than 6,000 different article directories, blogs and web sites. As you can imagine, this is a tedious process but produces excellent results. In the weeks and months following the submission of the articles you'll see your rankings in the Organic Search Results improve and your non-PPC traffic will increase.

Step 4. Check Your Email!
This is the pay-off. Check your email for new leads. You'll be notified automatically via email when a new lead comes in. You'll get all the information you need to take action and create an avalanche of new sales!

Step 5. Monitor, Adjust, Report–
We'll monitor your traffic, your PPC campaign and then we'll tweak, tune-up and adjust all the variables for maximum effectiveness. We'll produce weekly reports for you that will show you the results your Lead Machine is producing for you.

Step 6. We'll Turn the Keys Over to You–Or–Continue to Manage Your Lead Machine for You
If you like, we'll work ourselves out of a job! You can manage your own Lead Machine. You won't need to depend on us to keep your Lead Machine pumping out a flood of leads. Of course, if you want us to continue managing your Lead Machine (most clients do), you can select one of the on-going management programs.

We'll use years of test results and experience, along with thousands of dollars worth of proprietary software tools to create a "Lead Machine" for your business!

Your Lead Machine will literally spit out leads automatically. They will be qualified, hungry buyers ready to do business AND they will belong ONLY to you!

Your Lead Machine will fill your pipeline with exactly the business and customers you want!
"Hold on one second, Craig–I don't even HAVE a web site!"
• What? You don't have a web site? No problem. We'll build one for you!
Your web site will be the central "engine" of your lead machine. We'll go through the web site creation process step-by-step, from selecting your domain name and hosting plan all the way to creating a professional site custom-tailored for your business. You'll be proud to show it to your prospective customers because it will showcase the great work your company does. And, you won't spend the rest of your life married to some techno-geek. Our proprietary web building tools will allow even the most non-technical person on your staff to easily make changes and updates–daily, if necessary! Just click on the payment option at check out that includes the web site development. We'll be in touch with you and get working on your site right away.
Questions? Give us a call at 509-922-0535. We're real people. We actually answer our phone!
Your Custom-Designed Lead Machine Will Work for You 24/7. Every Day, Rain or Shine. It Will Never Take a Day Off or Go on Vacation!
Here's what your Lead Machine will look like (well, sort of, remember we're marketers, not artists!)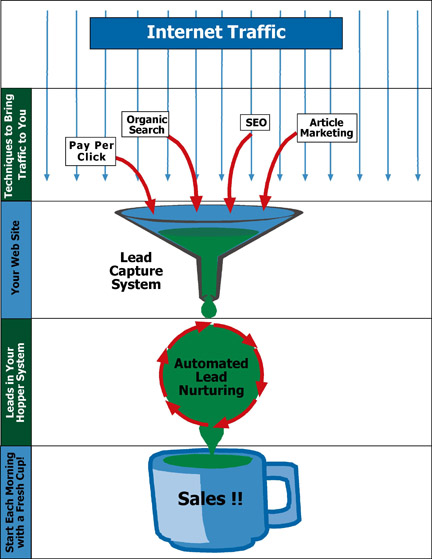 What a great way to do business! Let your Lead Machine do the marketing "heavy lifting"
CAUTION: In order to provide the best possible customer service and customized solutions designed specifically for the client's needs, The Mecham Company will only accept a maximum of 8 (eight) clients in any month.
Our programs are custom tailored to fit your business. Your Lead Machine will be built specifically for you. You won't have to share it. It works only for you. And it will work!

Since 1988, we've been the experts when it comes to creating the systems and tools to generate the leads you need to drive your business. We've created hundreds of "Lead Generating Machines".

But don't take our word for it. Here's just a quick sample of what some of our other clients have said:
"The programs implemented by Craig have produced a 74% increase in our qualified leads! We're averaging an amazing 8 leads a day. And we close more too. That's money that directly hits our bottom line. We couldn't be happier."
Chris Newman, President–Anbo Manufacturing
"When we implemented Craig's recommendations, the volume AND quality of our leads improved dramatically. In fact, the two very first leads we followed produced more than $110,000 in sales for us on ONE DAY!"
Bill Conant, Owner–Dream Room Design
"Following Craig's advice brought us so many new business leads that we went on a growing spree of more than 1500% in just a little less than two years. It was amazing–and it's still working!"
Linda Long, Director of Sales and Marketing–Blongo Family Fun
"Now that we've implemented Craig's plan, I can trace more than $1 million in new sales directly to Craig's lead generation and capture program. I only wished we had taken action more quickly."
John Shepard, Sales Manager–Bay Shore Systems, Inc.
"I have known and worked with Craig Mecham for more than 10 years and believe him to be one of the most insightful and 'out of the box' thinkers I have worked with. As head of a national market research firm I have found that people with Craig's integrity, intellect, and problem solving abilities come along rarely and when discovered should be valued and utilized whenever possible."
–Bill Hockett, Pres. & CEO–Critical Data, Inc.
So, what's the bottom line, Craig? Can a small business afford to have you build a money making "lead machine"?

Good question.

First, think of what you'll save by NOT wasting your money on lead generation strategies which are NOT working. The savings on your direct mail postage costs alone will more than pay for your lead generating machine.

Remember what it will cost to generate these leads in the "old fashioned" way:

• At least $7,000 just for the postage on your postcard mailing campaigns! That doesn't include the cost of printing!

• More than $10,000 to run enough radio spots

• As much as $15,000 to buy the leads from a lead generation company–and even then, you have to share them with your competitors!

Or . . .

You can have your own Lead Machine for a fraction of those costs!

| | |
| --- | --- |
| | It produces leads ONLY for you! |
| | Your leads will be fresh–you'll get them within seconds! |
| | YOU are in control of the qualification process, so you know exactly what your prospects are looking for. That means you'll close more business! |
| | YOU are in complete control of the volume of traffic into your Lead Machine. Turn it up when you want more. Turn it down when you're flooded with business! |

Here's What Your Lead Machine Contains:

Feature:

Lead Machine Full Version

Initial Telephone Interview

including an overview discussion of your business and you site along with recommendations. (approx 1-1.5 hours)

Comprehensive Site Analysis

(Written Report–approx 30-40 pages of detailed comments and recommendations)

Comprehensive Keyword Study and Traffic Analysis

Competitive Analysis

(legally "spy" on three competitors)

Incentive Document Development

(multi-page downloadable lead incentive)

Lead Form Development

PPC Campaign Structuring
• PPC Account Creation
• PPC Campaign Development
• Geographic Targeting
• PPC Ad Writing

PPC Campaign Monitoring




• Including bid adjustments, ad re-writing, keyword adjustments daily as needed.

Article Marketing


• Generate and submit six articles using your top six keywords to more than 6,000 article directories, blogs and web sites

Weekly Reporting–PPC Reports


• A CSV file (for MS Excel) will arrive in your inbox each week.

√

Weekly Reporting–Article Marketing


• An email report showing the number of backlinks generated by your Article Marketing Campaign

Weekly Reporting–Keyword Position Report


• Proprietary report showing your organic search engine placement for your primary keywords

Remember: Your Lead Machine will work for ANY business category that generates search traffic online. Here are the top ones:

• Residential Contractor Leads
• Mortgage Company Leads
• Insurance Company Leads
• MLM Leads
• Business Opportunity Leads
• Business to Business Leads

Local, regional, national, international, it doesn't matter! Your Lead Machine can cover it all!

Select your program and payment arrangement, and let's get started building your Lead Machine today!
Still have questions? Call us and let's talk. We're real people. We actually answer our phones! Call (509) 922-0535.
We have a couple of options from which to select the program that best meets your needs. Here's how it works:
Program 1-Yes, I Already Have a Web Site, Just Give Me My Lead Machine:

Program 2-Hurry! I Need Both a Web Site

and

a Lead Machine:

• You'll get a comprehensive written analysis of your site and recommendations for adjustments and improvements to fine tune your site so it will be ready to accept avalanche of traffic and turn that traffic into hungry buyers!

• We'll help you with domain name selection and hosting, plus we'll even develop your basic web site for you using a sophisticated template system which will allow you to make changes and updates without any specialized technical knowledge.You'll have a completely functional web site to provide the basis of your Lead Machine.*

• You'll get your own Lead Machine tailored for your specific business, created and professionally tuned and tweaked!

• You'll get your own Lead Machine tailored for your specific business, created and professionally tuned and tweaked!

• You'll get the Follow-up and Training you need to keep your Lead Machine running at peak performance.

• You'll get the Follow-up and Training you need to keep your Lead Machine running at peak performance.

• Monitoring and Reporting so you can track and measure exactly what your Lead Machine is producing.

• Monitoring and Reporting so you can track and measure exactly what your Lead Machine is producing.
Or, take advantage of our convenient, Pay Now discount program.
The same great Lead Machine, but you save 15%!
The Exclusive, No-Risk, No-Hassle, Unconditional, Money-Back Guarantee!

Work with us for 30 days. If you're not completely satisfied, we'll give you your money back. No questions. No hassles. No problem!
Note: We Will NOT Work With Your Competition!

Our methods are highly effective and proprietary. In order to maximize your competitive advantage, keep your strategies confidential and not dilute the effectiveness of your Lead Machine, we will NOT work with your competitors.

Will you be the first in your market? If you're reading this, rest assured that your competitors are too! It's time to take action now!

Not sure? Still have some questions? No problem! Give us a call. We'd love to talk with you about your business and answer all your questions about how a Lead Machine can help you.

Call (509) 922-0535

Ready to make things happen FOR you instead of waiting for things to happen TO you? Good! Click the payment link that makes the most sense for your business and we'll get started building your Lead Machine today!

* Other payment arrangements on approval.

There is absolutely no risk to you. Try it for a full 30 days. If you're not happy, you can cancel and get a full refund. How can we do that? Easy. We are convinced you'll be more than pleased with your results. Others have, and so will you!

So, select the payment button above that makes the most sense for you and let us go to work for you today building your own private Lead Machine!

As soon as your payment is processed, here's what will happen:

1. You'll be sent to a "Thank You" page (yes, we seriously appreciate your business) where there is a form for you to fill out with your contact information. Sorry about the form, but I do need to know how to contact you! So, please fill out the form and submit it.

2. You'll get a phone call from me or one of my staff and an email from me. If it's in the wee hours of the morning, you'll just get the email immediately, but the phone call will follow during normal business hours, usually within TWO business days.

3. We'll talk at length about your business, your customers, your competition, your web site, your products, etc. , etc. We'll get to know your business and we'll get to know you. This is NOT some automated, robotic process. This is real thinking and real work by real people.

4. We'll begin working for you IMMEDIATELY. Your lead machine will begin to take shape. Remember, this is a process, not an event, so there will be some patience required!

It's pretty simple really. We do the work. You get the leads. You make the sales. You smile–a lot!

So go ahead and click one of the above payment links and start visualizing your very own Lead Machine!

Talk to you soon!

Regards,

President, The Mecham Company

P.S. Remember, we can only take a limited number of clients each month! So hurry, don't delay. Let us get started generating new leads and new business for you today!

P.P.S. Questions? Don't hesitate to call. (509) 922-0535. We're real people. We actually answer our phone!